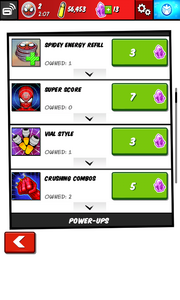 This is the blue shield icon located in the top right corner of the game. This is where you can buy various consumable power ups for increasing your score, as well as upgrading the in-game powerups. Players may also purchase permanent vial and xp boost as well.
Here is a list of all purchasable items in the shop.
Consumables
Spidey energy
(Refills your energy!)

Super Score
(Provides a +25% score multiplier)

Vial Style
(3x vials collected after defeating an enemy.)

Crushing Combos
(2x combos for 3 minutes. Combo counter last +3 seconds)

In game powerups
Webhammer
(Clobbers your enemies with the greatest of ease! - provides invulnerability from all damage, destroys most objects, adding +1 Hit to your combo count and giving you 10 vials as if they were enemies)

Web magnet
(Brings all vials in sight right to you! - also works on other power ups and collectible tokens)

Stats Multiplier
(Doubles vials collected and the combo counter!)

Web Shield
(Protects spidey from damage! - Lasts for one impact only)

Permanent Upgrades
Vial bonus
(Receive 15% extra vials to the total collected during your run)

Extra xp
(Receive 15% more experience with all the spideys on your roster during runs!)

.