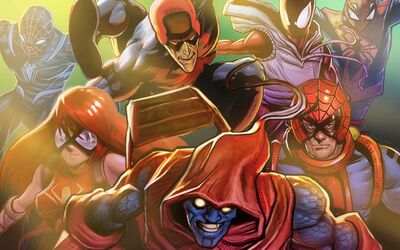 Portals
Portals are how you recruit additional Spiders for your roster. The portals section can be found by selecting "recruit" from the main game menu.
There are various types of portals to choose from, ranging in price. Most portals cost ISO-8 in order to recruit a Spider, however the Standard Portal may be used for 2,500 Vials. The Standard Portal does not contain any Spiders over 5* (rare) rank.
Players receive one free Standard Pull daily, and upon claiming the 10th day in a row, players will receive a free Premium Portal for their 10th day.
Event Portals are Portals with special featured cards, and often accompany events currently live. Sometimes special portals such as the Spider Army, or Spring Fever portals may show up for a limited time.
Forum members ChiroVette and goatmeat keep track of the spider results from all portals:
Visit ChiroVette's Data For ALL Available Portals! thread for users posts, discussion
Visit the 'Portal stats' tab in goatmeat's Spiderman Unlimited Spreadsheet of Awesome for a longer history of portal results and more detailed statistics.
Permanant Portals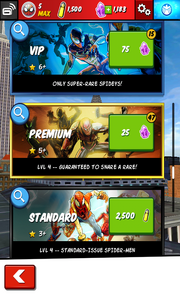 The Standard and Premium portals are now affected by your Tier rank. The higher the level, the more Spiders you will have in each portal, as well as having an increased chance at recruiting a Legendary Spider-Man from the Premiuim portal. Currently the highest level portal is 5, which is acquired upon reaching Web Warrior Tier status.
Here are the contents of the different tier level portals.
Level 1 level 2 level 3 level 4 level 5
The VIP portal is not affected by tier levels and contains the most Titans of any portal. This portal however, cost 75 Iso-8, making it the highest price portal in the game.
----SHHH MORE COMING SOON, UPDATING!!!----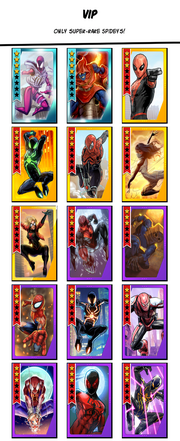 Event Portals
***Important note: The Event Portal entries will ALWAYS reflect the current Event portals and will be replaced when the portal closes. So whenever you see event portals entries, whether single or multiple, that will reflect all currently active Event Portals.
I have also decided to update this entry on the Wiki every day with the current pulls in the forum. What that means to you is that on the top of the event portal entry, you will see the official drop rate of all cards in the portal, and below that, the current pull rates that players are experiencing in real time both posted in Gameloft's official forum as well as emailed to me anonymously.
Note: I am not currently keeping track of the forum's pull rates for these Battlegrounds Portals as nobody is reporting them!
Also, please note that once a current Battleground ends, every few days, the portal changes! So bear in mind that when this happens, I will change this entry without notice.
_____________________________________
Titan Giveaway
The Doctor Is In
Community content is available under
CC-BY-SA
unless otherwise noted.